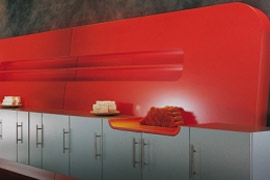 The innovative range of Resin Saving Paper ( RSP®) has the potential to bring savings of approx 25% in terms of required resin content in comparison to standard grades.
Colour, opacity, lightfastness (at least Blue Wool Scale 6) and technical properties remain constant. Another outstanding feature of RSP® is its outstanding dimensional stability after impregnation.
Resin Saving Papers (RSP®) in print base or uni-coloured quality
Furniture, furniture fronts, flooring, doors, commercial and domestic interiors, hi-spec surfaces such as kitchen worktops, bathroom surfaces, window sills, exterior applications.