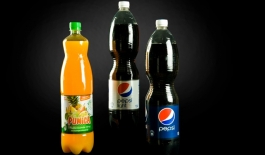 Töpfer produce a wide range of wraparound labels ideal for confectionery, dairy and beverage products. Suitable for all container types and sizes; glass, lightweight glass, PET bottles and cans. Production of wraparounds is possible either as cut labels or on a roll.
Our wide experience and technical know-how ensures compatibility with any type of labelling process in the beverage industry.
Transparent, white or metallised film, white or metallised paper
Film 19-90 micron Paper 68-90 gsm
Rotogravure, flexographic printing, 10 colours
Single cut or on the roll
Fully recyclable
Antistatic properties
Moisture resistant
High Gloss
Reverse-printed clear film labels protect the print from damage
By using special finishes the wraparound can also offer protection from oil and grease.