The Profi range is the latest addition to our portfolio. The Polypropylene cups are injection moulded and have an improved stacking profile to allow them to stack closer together so as to take up less space for storage and transportation.
Our Profi cups are reusable and made from a single material called polypropylene (PP).  This means the cups are recyclable at the end of their use.
The cups are fully compliant with in-line catering dishwashers and therefore offer the option of many re-uses, which is excellent for the environment, boosts green credentials and reduces the cost per use of each cup.
BPA free
Phthalates free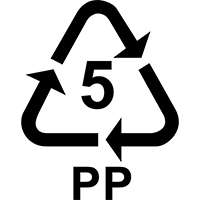 200ml
250ml
300ml
1/2 Pint
400ml
500ml
1 Pint
All cups are CE marked and or lined with their metric fill measure
From 77.5mm Ø to 90mm Ø for the 1 Pint
Injection Moulding (inc. In-mould labelling IML)
Digital printing directly on to the surface of the cup
In-Mould Labelling,